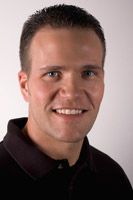 BRIAN SCHIFF, PT, OCS, CSCS graduated from The Ohio State University in 1996 with a Bachelor of Science degree of Physical Therapy in Allied Health Professions. Since then, he has practiced as a licensed physical therapist specializing in sports medicine. Through the National Strength and Conditioning Association, Brian became a certified strength and conditioning specialist (CSCS) in 1998. He is also a board certified orthopaedic clinical specialist (OCS).
He authors the "Functionally Fit" online column for PFP Magazine and presents continuing education seminars for Allied Health Education. Schiff has authored books on golf specific conditioning, frozen shoulder therapy and a Fit Knees DVD series. Brian lectures nationally and is a past presenter for AFPA, NSCA and Power Systems Total Training Seminars.
He currently is the supervisor for EXOS at Raleigh Orthopaedic in Raleigh, NC and owns B Fit Training Systems, his consulting and information product company. His passion lies in sports medicine rehab and sports performance training.
Brian served as the strength and conditioning coach for The Columbus Crew Major League Soccer Team from 2002 - 2006. He has presented at professional conferences and coaches' clinics on topics including training for shoulder stability, baseball specific
training, soccer specific conditioning and sport specific training, safe shoulder training, ACL injury prevention, functional golf training and training the low back.
Articles
Give Your Rotator Cuff the Cold Shoulder
Understanding Pain in the Cuff